Athletic Training is a profession made up of unsung heroes.
Many times the athletic trainer is the first to arrive and the last to leave, all the while working behind the scenes and avoiding the limelight because it is just part of the job! Even though all of us athletic trainers realize that athletes do not just go away to some magical land of healing and return, it is a testament to the skill of athletic trainers that the general public simply presumes that an injured athlete will return back to full health. We, as athletic trainers, should all take solace in the fact that although we might not realize it, we have an impact on the lives of the people with whom we deal on a daily basis in ways that we may never understand. Therefore, recognition of a deceased athletic trainer by the Memorial Resolutions Committee is possibly the final and ultimate recognition by the Great Lake Athletic Trainers Association for our unsung heroes.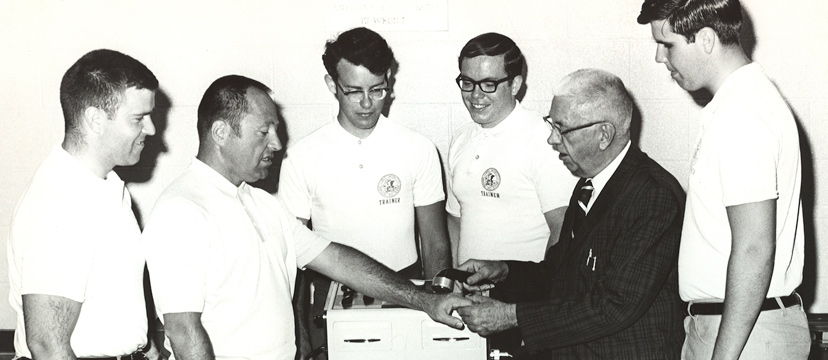 NOTIFY US OF A DECEASED MEMBER
---
Recent Memorials
---
Ken Marshall
Ken Marshall passed away peacefully on January 23, 2016. Retired since 2011 from Central State University, Ken was a gradaute of Indiana State University and the University of Dayton.
Mathew Lee Elsing
Matt Elsing tragically passed away in a car accident while traveling back from a sporting event he was working. He worked with athletes at UW-Eau Claire and the Madison Mallards.
Joshua F. Stuhr
Joshua died from injuries sustained in an automobile accident. He attended Minnesota State University, Mankato and was working on his Master's Degree in Performance Enhancement and Injury Prevention through California University of Pennsylvania at that time of his untimely passing.
---
Memorial Resolutions by State
---
ILLINOIS
Ann Banfield

Diana Bentel

Wilfred Buddell

Bernard Cahill, MD

Richard Dominguez

William Durnil, Jr

Carl Erickson

Del Humphrey

Robert Jaeger

Erika L. Kane

Bob Kief

Jill M. Lambert

Matt Passalaqua

Robert Spackman

Julie K. Svec

Gail Weldon
---
INDIANA
Z. Mel Blickenstaff

Loyal "Doc" Combs, MD

Harold Cordell

Dwayne "Spike" Dixon

Jill M.Guenin

Joe Harvey

Daniel Helm

Jill A. Horton

Stephanie P. Janssen

Larnard "Lon" Mann

James H. Morris

Sam Newberg

William E. Newell

Til Panaranto

Eugene S. Paszkiet

Mert Prophet
---
MICHIGAN
Donald Bleam

Christina Dallas

Joseph N. Frees

Esther Geissel

Jack Heppinstall

David Hough, MD

James Hunt

Todd Jager

Timothy Karr

Miller Kelley

Stephanie Lay

Clarence S. Livingood

Greg Meredith

Harold Mundy

Gerald O'Connor, MD

Lenert Paddock

William Quinn

Kelly Parkinson

Gayle Robinson

Kristi Sprecher

Steve Vukas

Robert White

Aaron Ziemba
---
MINNESOTA
Dan Campbell

Lawrence Neumann

Sandy Spanier

George Spano

Lloyd "Snapper" Stein
---
OHIO
Tony Adamle

Henry Andel

Ray Baldwin

Herman Bearzy

Joe Begala

Eugene R. Benner

Ernie Biggs

George Busenberg

George Christman

E.F. "Jay" Colville

Timothy Chad Fallis

Dan Gorman

Alan W. Hart

Roy Harvey, DPM

Edward B. Hawkins

Billy Hill

David M. Huffstetler

Ernest Hudak

Richard Iliano

Conne Jarvis

Karin A. Johnson

Joe Keefe

Edward Kwest

David Litt

Ken Marshall

Daniel Morgan

James D. Nice

Dean Ochi

Karen J. Phipps

Denise Ratliff

Albert Rector

Al Sawdy

J. Michael Spilman

Robert Sutton

Mark A. Tener

Lynn Wallace

Chester J. Waltrip

James "Jimmy" Warfield

Melvin Watrous

Linda Weber-Daniel

Jennifer Webb

Charles Wershing

Amy L. Zeinner
---
WISCONSIN
Walt Bakhe

Dan Davis

Matthew Lee Elsing

Domenic Gentile

Kurt Grimm

Derek Horn

Carl Jorgenson

Shari Khaja Dorresteijn

Jerry Nauert

James Nolan

Jeff G. Oliphant

Tracy Rasor

John Schmitz

Jeff Snedeker

Joshua F. Stuhr

Jon Swift

Robert Weingart

GLATA offers 20 online EBP home study courses through Innovative CEUS. Members can access a half off coupon in the members only section. Remember 2017 is a BOC reporting year, all certified athletic trainers need 10 BOC approved EBP CEUS.
Read More

»
Recognize a GLATA member/organization from each state that has promoted the athletic trainer or the athletic training profession at the grass roots level.
Read More

»
District Four is looking for a representative to serve on the NATA Convention Planning Committee. Those interested should (1) value the philosophy of evidence-based practices, (2) appreciate the breadth of the athletic training profession, (3) utilize effective communication practices, and (4) enjoy collaborative work in a large group.
Read More

»